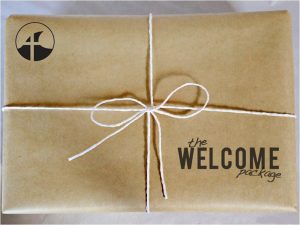 At St Faith's, we want everyone who walks into our church building to feel welcome.
We desire to welcome anyone who God brings through our doors, so they will have an opportunity to hear the Gospel of Christ Jesus, and experience genuine Christian fellowship.
For many of us, we can forget just what it was like walking into a church for the first time and "Welcoming" can simply become handing out a news-sheet at the front door and giving a smile.
With this in mind, we want to invite you along to a course called "The welcome package" that will will help us to consider:  Why being a welcoming church is important? and What are the ways we can welcome people better at St Faith's?
The two nights will be made up of group discussions, short talks, real testimonies from people who have visited St Faith's and practical training in: Understanding what it is like being a visitor, How to start/how not to start a welcoming conversation, thinking through the next steps that might help the visitor to connect with us.     
When and where: The course will run over two nights: Tuesday the 8th and 15th of November 7:30pm @ St Faith's.
How do I register: Call or email the office and let them know you are coming (9971-1048 or office@stfaiths.org.au)
I am really looking forward to meeting together with you for these practice, fun and interactive nights.
Regards,
Neil Souter
Mobile: 0434 830 113