Devoted 1.2 from Neil Souter on Vimeo.
"Devoted" is a daily bible reading and prayer challenge prepared for the members of St Faith's. If we want to be a community who are being transformed by Jesus, loving like Jesus and impacting the world for Jesus, then we need to be devoted to God, hearing from his word and seeking him in prayer. Together, we'll set out for the month of February to read God's word and commit to praying each day.
"DEVOTED" JOURNAL - Download here. 
"DEVOTED" with children
If you have children the Swedish method can be very helpful. With younger children you may want to use a CEV version of the bible. A great place to start is to simply do first point (the light bulb). Before you read out the passage ask them to listen to you read and for them to tell you what they liked. After they share what they liked you could lead them in a prayer based on what they said. Depending on the age of your child you could go further and ask them if they have any questions and finally what they think God calling us to do after reading this passage. This could be done at a set time each day, around the dinner table or before the children's bedtime as a family.
SHARE WHAT YOU'VE BEEN LEARNING
 You're not doing this challenge alone! There's a whole bunch of people from St Faith's doing it with you. Same passage! Same Day! What an encouragement it would be to share how God has been speaking to you by his Spirit. You can do this in three ways:
In our general conversations when we see each other. Asking each other how the challenge is going.
Come to church and small group ready to share something that God has been teaching/encouraging you in.
Via Social media:
St Faith's Facebook page. If you are on Facebook share on our page what you have been getting out of the studies and prayer time each day.
For Twitter and Instargram use the hashtag: #devoted14
"A Reason for Hope" Study Booklet - Click here
The letter "1 Peter" is a confronting, unsettling letter for a modern "western", Christian to read. Our lives are often so focused on the good things we are enjoying now, that talk of "future hope" seems a bit empty, even unnecessary. At first.
On the other hand, when things go badly wrong for us personally, or for those we love, then the Christian hope of 'glory' takes on more significance. Suffering drives us to hope.
Well, this letter written by the Apostle Peter was originally addressed to Christians who were suffering for being Christians. It is a letter written to encourage these early Christians to hold onto their hope of being with Christ in glory. It is written to urge them, as they have this hope, to live lives in this world that are consistent with this hope. And it is written to urge Christians to be ready to explain that hope, to defend it, to unbelievers who challenge them.
Peter writes:
"In your hearts, set apart Christ as Lord. Always be prepared to give an answer to     everyone who asks you to give the reason for the hope that you have."  1 Peter 3:15
As we study 1 Peter this term, we will particularly focus on three questions.
 First, what is the substance of this "hope" that Peter writes about? What are we Christians to look forward to?
 Second, what reasons are there for this hope? What is the basis for thinking that this future "state" is ahead, for the believer?
 Third, what difference will this hope make to how we live now?
I believe we need this letter. We have an enemy who wants us to forget our hope. We have an enemy who wants to rob us of our inheritance. We need to help each other to resist him today.
Kerry Nagel
Jan 2014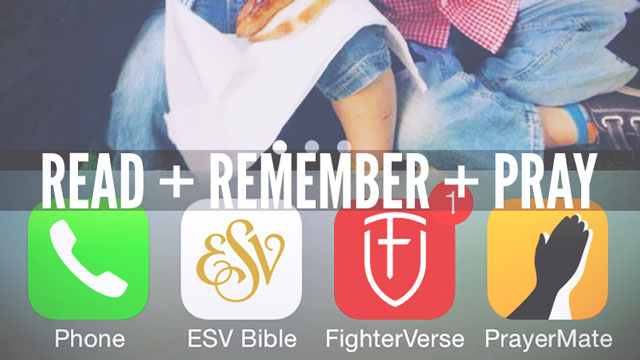 This is the second time I have written this blog post! I spent 3 hours pulling all these resources together on the 2nd of January, but for some reason the drafts weren't saved and I lost it all 10 minutes away from publishing! It's taken me a few days to deal with the grief of the post disappearing and then having to write it again!! I should be okay.
I have hidden your word in my heart
that I might not sin against you. (Psalm 119:11 NIV)
As the New Year begins, regardless of what you think about 'New Years Resolutions', it would be good for your soul to follow the advice of the Psalmist and "hide God's word in your heart".
READ THE WORD, REMEMBER THE WORD, PRAY THE WORD
Reading, remembering and praying are three ways to help hide God's word in your heart. Below are a number of resources that will help you to do this. Many of them use mobile applications, websites and other electronic tools. I think these are great! But they won't solve all your problems. So pray now that God would give you the desire and will to read, remember and pray his word in 2014.
In February, all of St Faith's will be encouraged to do a month long plan called DEVOTED... stay tuned! In the meantime, hopefully these resources will help you read, remember and pray God's word
Did you know.......
There are more human beings in slavery today than at any time in human history (most experts believe there are 27 million slaves worldwide).
Two children are sold as slaves every 60 seconds (1 million children are exploited through the global commercial sex trade every year).
The travel and tourism industry plays a vital role in facilitating child sex tracking. Many hotels having become known as "havens" for what has become known as "child sex tourism" in which traffickers and sex offenders utilise hotel facilities to carry out such illegal activities.
$32 billion in profits are generated by the human trafficking industry every year.
The internet has become the new marketplace for tracking in children. Sexually exploited children are growing even as fewer prostitutes work the streets.
Be informed to help, to pray, and to give and support the work of organisations around the world who are seeking to bring an end to such injustice.
A viewing of Trade of Innocents at Warriewood United Cinemas will begin this process. Visit www.koorong.com to book your tickets for this viewing on Wednesday 24th April.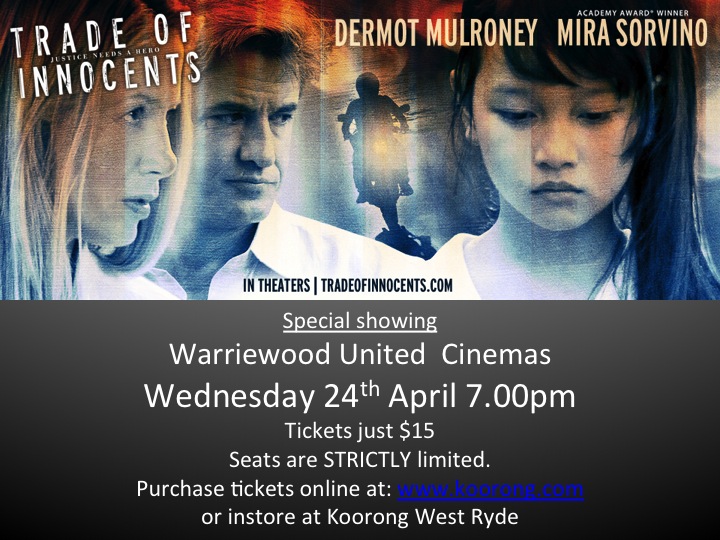 Mars Hill Music have dropped a killer Christmas EP this past week! Joy Has Dawned by Kings Kaleidoscope has been on repeat while working this week... I love it!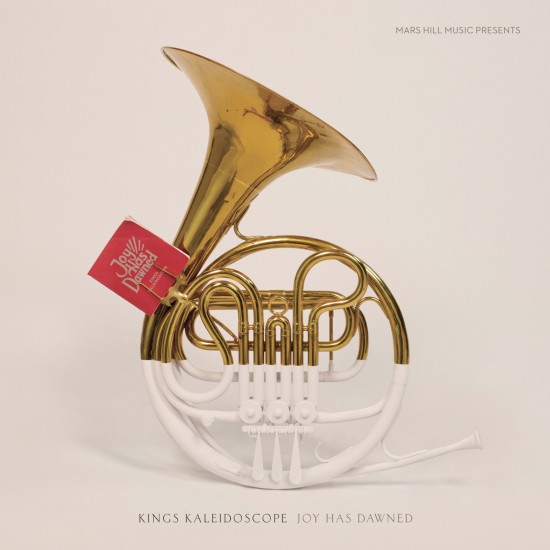 1. Come Thou Long Expected Jesus // Words by Charles Wesley. I hadn't heard this one before. It's great! The music builds as the lyrics build towards the expectant hope of Jesus arriving.
2. O Holy Night // Words by Placide Cappeau. This is one of my favourite Christmas carols. Musically this song can be quite powerful, however sometimes it might be over the top operatic style! The version on this track is more subtle, but with many layers of music underneath. Worth a listen.
3. Joy Has Dawned // Words by Keith Getty & Stuart Townend. This is the first time I've come across this epic story coming from the pen of modern hymn writing legends Getty & Townend (In Christ Alone + How Deep the Father's Love). It is the standout track on the EP. It has a touch of funk/groove.
4. O Come, All Ye Faithful // Words by John F. Wade. Classic carol. Solid arrangement.
5. All Glory Be to Christ // Words by Dustin Kensrue. Classic tune. New lyrics by former frontman of Thrice. Minimalist. It's good.
Kings Kaleidoscope have been producing some great indie-rock tracks over the last couple of years. Joy Has Dawned shows an even greater diversity and versatility of Chad Gardner and the band. Buy it. Throw it on in your Christmas playlist. Peace.
Stream below // Name your price on Bandcamp // iTunes