Hi Everyone,
We want to give you an update on the COVID-19 situation and the impact it is having on our church community, here at St Faith's. As you are probably aware, Prime Minister Scott Morrison made an announcement yesterday that indoor gatherings over one hundred people are now banned and our Archbishop Glenn Davies followed that announcement by declaring that all Sydney Anglican Church services are suspended until further notice. Obviously that impacts what we're doing as a Church here at St Faith's, and we wanted to touch base with everyone to let people know what we're doing so that we might continue church, even if it looks a little bit different.

But, let's turn to the Bible first.

We want to encourage everyone at this time to be fixing our eyes on Jesus and looking to him before anything else. In Revelation chapter one, Jesus talks with John, the author of Revelation, and he puts his hand on him and says, "Do not be afraid, I am the first and the last." Jesus there is reminding him that He was there before the beginning of the world and he is going to be there after it ends, and he holds all of those things in his hands. He is in control both now and always. Obviously, at this time, we really need to remember that but Jesus goes on and builds on that. He says 'I am the Living One; I was dead, and now look, I am alive for ever and ever! And I hold the keys of death and Hades'. Jesus reminds us again that he is alive right now, that he is ruling and reigning, and that even though he was nailed to a cross and died, he defeated death and holds it in his hands; just like he holds this current situation in his hands right now as well. We need to be trusting Jesus particularly at this point and putting our faith and all of our hope in him because our world really needs that and we really need that too. And so we're going to press forward confidently as a church, trusting in Jesus and remembering these truths.

One of the things we're really excited about is that church is still going to happen, because it's not a building but a people. We're going to keep gathering together as God's people, but it will be done a bit differently. We'll be gathering together online!! Over the coming days you'll be able to find all the necessary information on our website. It will have information about Gathering Online, Community Groups, and our Online Resources that we hope will serve to spur us on to keep trusting Jesus during this time. We are the body of Christ and we need to keep meeting together, even online, so we can continue to live for him and serve him in this world. It's also important that we look out for each other at this time; we already have a bunch of people in self-isolation because they have flown in from overseas. So it is important that together we check in on each other, so that we can care for one another in whatever needs there may be.

So this weekend we're going to be meeting with our community group leaders, and we're going to be thinking together about our vision as a church - which hasn't changed - but the strategies for achieving that vision are changing for a period of time. We're really excited about what God might do with this time, in growing us individually, growing our Community Groups and growing our church family.

So we want to encourage you to stay connected at church. Stay connected on Facebook, via our website, and if you don't receive email updates from us click on the "Stay Updated" button on our website. We want to do our best to keep you updated on what's happening and how you can connect with other Christians at this time. As we said before, keep trusting in Christ - He is in control, He's sitting on the throne, and we must remember these things and trust his sovereignty at this time.

Reach out to us if you need anything - we want to continue to love and serve you as the leaders of this community.

Take care, and God bless.

St Faith's Ministry Team

All are welcome to join us as we reflect on the death of Jesus and celebrate his resurrection as a community this Easter.
Across the weekend we have opportunities to share communion, eat a meal together, sing and hear from God's word, as well as Kid's programs for all ages. We'd love to see you there!
GOOD FRIDAY
8.30am | Traditional Church with Holy Communion
10.30am | Morning Church with Kids Program
6.00pm | Soulies and Night Church with Communion and Dinner
EASTER SATURDAY
5pm | Saturday Church with Kids Program
RESURRECTION SUNDAY
8.30am | Traditional Church with Holy Communion
10.30am | Morning Church with Kids Program
6.00pm | Night Church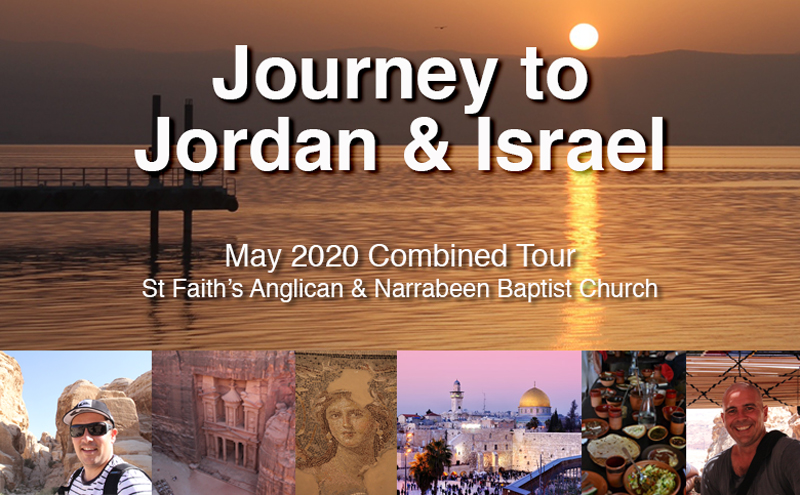 St Faith's Anglican Church together with Narrabeen Baptist Church, are excited to launch our first ever "Journey to Jordan & Israel".
9th - 24th May, 2020.
Come and join us on a two-week journey that begins in Jordan exploring the lost city of Petra, viewing the Promised Land from Mt Nebo, and encountering Amman. We will then travel across the Jordan River into Israel and to such places as Jericho, Masada, the Dead Sea, the city of Jerusalem, the Sea of Galilee and to so many more places that we encounter in God's word. Leon Stead (Narrabeen Baptist) and Ben Molyneux (St Faith's Narrabeen) along with expert local guides, will help deepen your understanding of the life and ministry of Jesus as we travel in the footsteps of God's people of both the Old and New Testaments. Share in a wonderful experience which will leave you with insights and memories for a lifetime. Spots are limited!
Information Night
Thursday 4th April, 7:30pm
St Faith's Anglican Church, Clarke Street, Narrabeen
RSVP by 25 March by clicking here.

Download the full brochure and itinerary here.

Download the Registration Form here.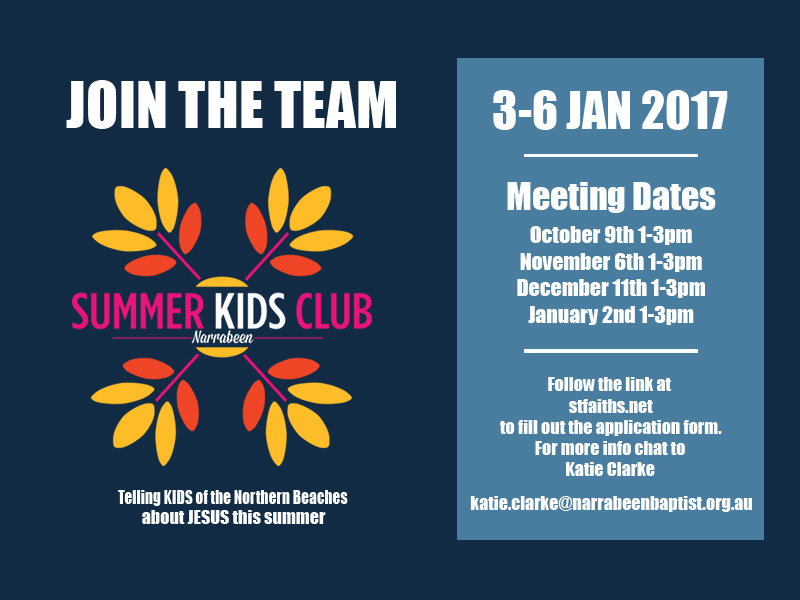 Register here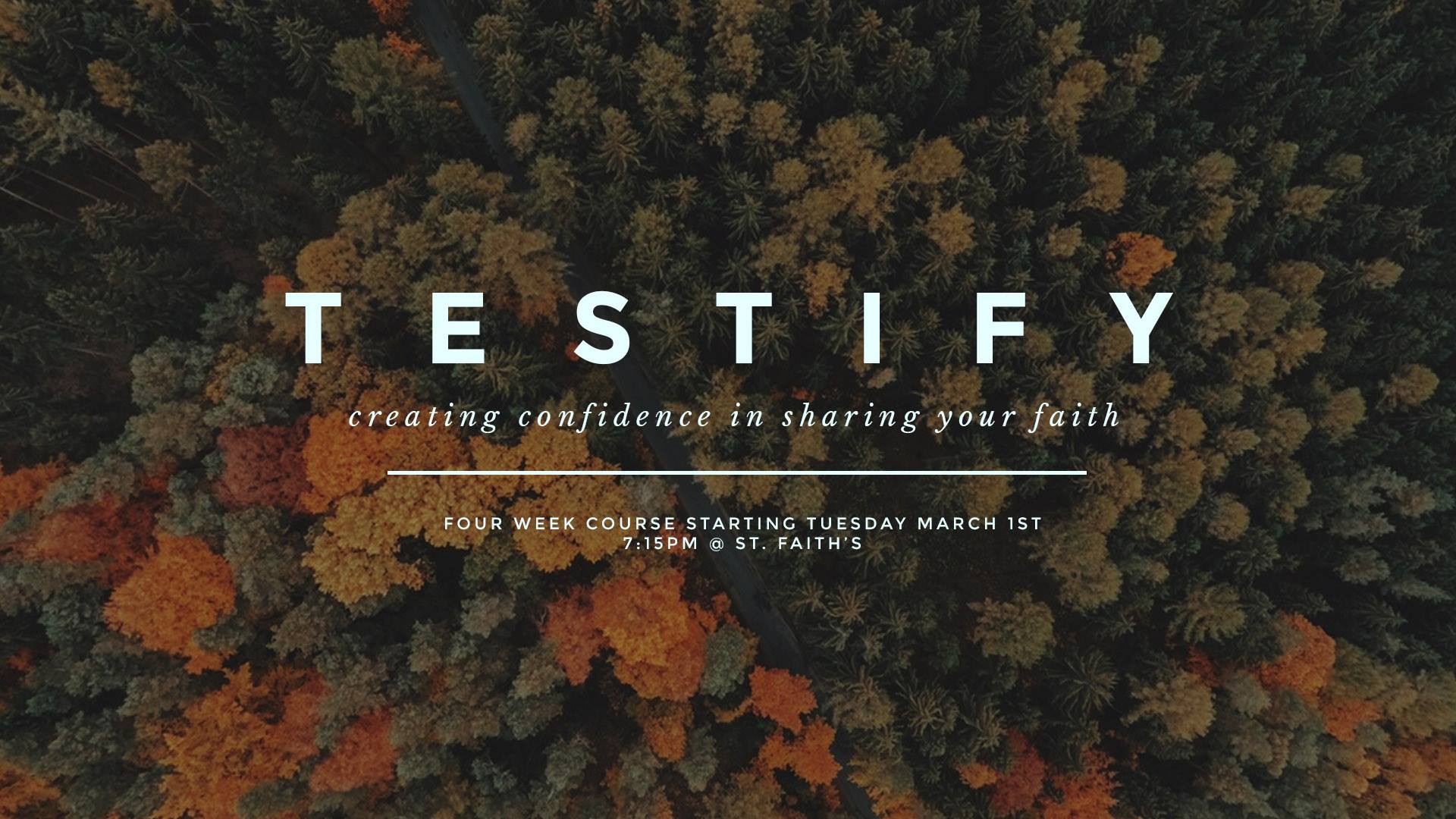 1 Peter 3:15, "But in your hearts set apart Christ as Lord. Always be prepared to give an answer to everyone who asks you to give the reason for the hope that you have. But do this with gentleness and respect…" 
ONLINE REGISTRATION HAS NOW CLOSED. PLEASE RING THE OFFICE (9971 1048) IF YOU WOULD LIKE TO REGISTER. 
Our Aim:
As part of the "IMPACTING PORTFOLIO" at Narrabeen Anglican Church in 2016, we are planning on launching a short course that will help our members create confidence in their ability to share their Christian faith with the world around them. Our conviction is that, increasingly, Christians are feeling inadequate and fearful when it comes to sharing their faith in Christ. Whether that's due to a negative experience of sharing their faith with others, or a feeling that 'evangelism' is a special task only for "evangelists" or trained ministers, or for the simple concern that they are not equipped to share the gospel or answer people's questions - there is an increasing tendency for Christians to avoid conversations about Jesus and to lack any form of enthusiasm for evangelism at all.
Our hope for "TESTIFY" is that this short course will change that thinking for you and will go a long way to helping you to see the wonderful privilege and responsibility we have, as Christian people, to bear witness to the work of Christ in our lives - it is indeed good news and why would we consider keeping that private? While traditionally, evangelism has been presented as something that the church does through programs and events, this course will remind us of the truth that one or two events scattered throughout the year will have very little impact, compared to the impact that hundreds of Christian people will have, who are passionately and intentionally making the most of every conversation and opportunity the Lord gives them to engage their world in eternal matters.
Target Group:
Our target group is not those with evangelistic gifts (though, if that's you, you're most welcome to join us!). Our target is the everyday Christian person! It's for Christans who want to be further equipped to make the most of any opportunity the Lord provides to share the gospel (and their lives!) with others (Col 4:5), and to be further equipped to give an answer to anyone who asks you to give the reason for the hope that you have in Christ (1 Pet 3:15).
What will the course look like?
The course will be based on a book called "Everyday Evangelism" (which you will receive) and has four weeks / sessions:
Week 1 - Wired for Witness
The purpose of this session is to understand that God has 'wired' us to be witnesses wherever we may be, using our own uniqueness and style.
Week 2 - Sharing your Story
The goal of session two is to learn some skills so that we can naturally express our faith by sharing what God has done in our lives.
Week 3 - Getting the Facts Straight
Session three will help us to think through and learn to express the basic essentials of the gospel.
Week 4 - Handling tough Questions
The final session will consider some of the common objections to the Christian faith and how to go about answering such questions.
Registration:
Please register for this course via the church office (office@stfaiths.org.au or 9971 1048) or online (below). To cover the cost of the course material, we're asking for a $20 donation per person.
The course will run on Tuesday nights in March - 1st, 8th, 15th & 22nd - 7:15pm for a 7:30pm start.
Reflections on Israel 2014

The two links below provide a summary reflection, along with a larger, more detailed, reflection on Ben's recent study tour to Jordan & Israel.
Larger Reflection - click here.
http://cottagecounselling.wordpress.com
The Cottage Counselling Centre was started by St Faiths in 1996. It began with a couple of professional counsellors offering their services on a sliding scale ensuring anyone could receive the help they need. God has grown the Cottage to meet the ever increasing demand and now we have:
Five locations across the Nothern Beaches and the North Shore;
12 counsellors;
In 2012 we provided over 4300 hours of counselling which meant that our team donated the equivalent of over $117 000 in forgone earnings.
Our clients are Christians and non-Christians, adults and kids, married and separated couples. They are local people, some of whom come because we are Christian and they want us to help them with a problem that is challenging their faith, and some of whom just need services and know we will help them whether they can afford it or not. We have strong relationships with other local services, GPs and churches. They refer people because they know what we do and trust us to do it well. For those people we are an example of Christian people putting their loving and grace-filled faith into action. 
What kind of issues do we seE?
| | | |
| --- | --- | --- |
| Depression | Grief | Child abuse |
| Addictions | Anxiety | Family breakdown |
| Stress management | Sexuality | Critical incident |
| Eating disorders | Relationship |  Anger |
| Self Harm | Suicide | Child protection |
| Domestic violence | Parenting | Carers |
What is Christian counselling?
Our counsellors are professionally qualified and skilled in their work but more than that they are trained to integrate their faith with their practice. As Christian counsellors we are able to support Christian clients to grow in their likeness to Christ: when that growth is being blocked by psychological distress we can help them to understand where God fits in their suffering as they heal. For non Christian clients, it means 'being' Christ to them. Every client who comes to The Cottage knows we are a Christian service. Sometimes we are able to talk directly about how Jesus loves them but we can always love them as He has commanded us to, even as we facilitate their healing. It may well be the first time they have had a nurturing relationship with a Christian.
Why do we need your financial help?
As demand has grown The Cottage has grown to meet the demand and we have needed more support for our face to face services: intake and assessment of new clients, coordination, administration and supervision. Volunteers already support all our accounting and administration and some of our counselling management. To be able to provide a professional service and support our counselling team, greater financial support is needed and our clients cannot afford to pay any more. We have stretched our resources so far that unless we receive an injection of funds we will have to close down a significant portion of our operations and provide a severely truncated ministry by the middle of this year. And this is including all the donated time, expertise and energy we will continue to use.
The situation has become dire.
Just a few of the stories from the CottagE
 John and Jodie
Young Christian Couple referred through word of mouth. John is a recent graduate of Moore College and he and his wife Jodie have two young children and are serving in a Sydney parish. John came to the Cottage first. He was trapped in addiction to internet pornography and wracked with guilt. As he began to understand what had led to his addiction and heal the wound it was attempting to soothe his urges began to ease and he was able to understand what triggered them and how to manage them. Then Jodie came to the Cottage. Of course their relationship had been affected by John's addiction and while she supported him incredibly well she was hurt by its impact and when he began to heal she realized that she too needed help but for anxiety. It was a problem she had had on and off for a long time but it was triggered again by John's behavior. John and Jodie continue to serve in ministry and their counseling has not only helped them to heal personally but to understand their parishioners, to build good relationships with them and to support them with grace and insight.
Tommy 6, and Kate 10, and their Mum Darcy
Local Non-Christian Family referred by a family support service on the beaches. Darcy rang because she was struggling to parent Tommy during his angry outbursts. He was getting rage attacks could not calm down and was violent to his sister and his Mum. As I spoke to Darcy I came to understand that she has had to leave her violent husband 9 months before during a crisis. He still saw the children on weekend and sometimes when Darcy had to work. Those visits were often cancelled by him at the last minute and when they were kept he was aggressive or neglectful with the children. Suddenly Tommy's anger seemed to make sense. Tommy and Kate now come and see one of our counsellors to help them process what has happened and understand their Dad and the impact he has had on them and Darcy sees another counsellor to help her process her own experiences and to help her set appropriate boundaries with her ex-husband. Her ex-husband has been reported to Community Services.
Andrea
Non-Christian 35yo woman in a lesbian relationship. Andrea has been coming to counselling at the Cottage for several years. Her growing up years were filled with violence and abuse. Her father was violent to her mother as well as to her and all her siblings. He made them go to Mass every Sunday and would hit them if they refused. In addition her father was in a cult where young children were ritually abused by men in robes some of who were priests. She was about 5 or 6 yrs old when this occurred. When Andrea first came to counseling it was to deal with anxiety and difficulties in being assertive in relationships but as the counsellor listened to her and cared for her she began to have nightmares and flashbacks of horrible memories. Much of her fear was to do with evil and being attacked. Over time she was able to relate that to the experiences she had as a child. This led her to ask the counsellor spiritual questions, knowing she was a Christian, and to asking her to prayer for her. She now has a Bible and asks Jesus to protect her and go with her when she is anxious. She has a completely new understanding of who Jesus is.
(Names and details changed for the purposes of confidentiality)