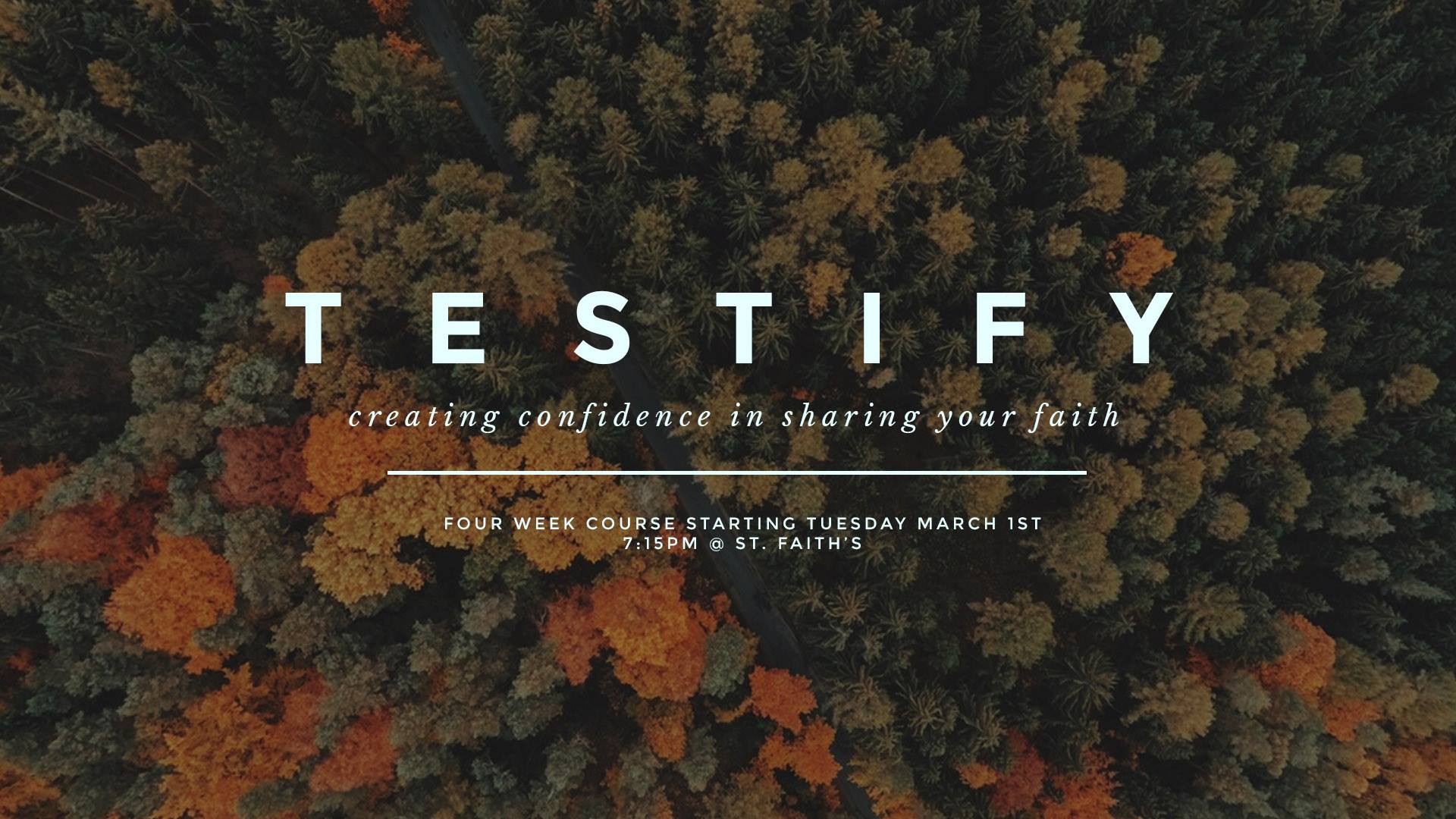 1 Peter 3:15, "But in your hearts set apart Christ as Lord. Always be prepared to give an answer to everyone who asks you to give the reason for the hope that you have. But do this with gentleness and respect…" 
ONLINE REGISTRATION HAS NOW CLOSED. PLEASE RING THE OFFICE (9971 1048) IF YOU WOULD LIKE TO REGISTER. 
Our Aim:
As part of the "IMPACTING PORTFOLIO" at Narrabeen Anglican Church in 2016, we are planning on launching a short course that will help our members create confidence in their ability to share their Christian faith with the world around them. Our conviction is that, increasingly, Christians are feeling inadequate and fearful when it comes to sharing their faith in Christ. Whether that's due to a negative experience of sharing their faith with others, or a feeling that 'evangelism' is a special task only for "evangelists" or trained ministers, or for the simple concern that they are not equipped to share the gospel or answer people's questions - there is an increasing tendency for Christians to avoid conversations about Jesus and to lack any form of enthusiasm for evangelism at all.
Our hope for "TESTIFY" is that this short course will change that thinking for you and will go a long way to helping you to see the wonderful privilege and responsibility we have, as Christian people, to bear witness to the work of Christ in our lives - it is indeed good news and why would we consider keeping that private? While traditionally, evangelism has been presented as something that the church does through programs and events, this course will remind us of the truth that one or two events scattered throughout the year will have very little impact, compared to the impact that hundreds of Christian people will have, who are passionately and intentionally making the most of every conversation and opportunity the Lord gives them to engage their world in eternal matters.
Target Group:
Our target group is not those with evangelistic gifts (though, if that's you, you're most welcome to join us!). Our target is the everyday Christian person! It's for Christans who want to be further equipped to make the most of any opportunity the Lord provides to share the gospel (and their lives!) with others (Col 4:5), and to be further equipped to give an answer to anyone who asks you to give the reason for the hope that you have in Christ (1 Pet 3:15).
What will the course look like?
The course will be based on a book called "Everyday Evangelism" (which you will receive) and has four weeks / sessions:
Week 1 - Wired for Witness
The purpose of this session is to understand that God has 'wired' us to be witnesses wherever we may be, using our own uniqueness and style.
Week 2 - Sharing your Story
The goal of session two is to learn some skills so that we can naturally express our faith by sharing what God has done in our lives.
Week 3 - Getting the Facts Straight
Session three will help us to think through and learn to express the basic essentials of the gospel.
Week 4 - Handling tough Questions
The final session will consider some of the common objections to the Christian faith and how to go about answering such questions.
Registration:
Please register for this course via the church office (office@stfaiths.org.au or 9971 1048) or online (below). To cover the cost of the course material, we're asking for a $20 donation per person.
The course will run on Tuesday nights in March - 1st, 8th, 15th & 22nd - 7:15pm for a 7:30pm start.
Did you know.......
There are more human beings in slavery today than at any time in human history (most experts believe there are 27 million slaves worldwide).
Two children are sold as slaves every 60 seconds (1 million children are exploited through the global commercial sex trade every year).
The travel and tourism industry plays a vital role in facilitating child sex tracking. Many hotels having become known as "havens" for what has become known as "child sex tourism" in which traffickers and sex offenders utilise hotel facilities to carry out such illegal activities.
$32 billion in profits are generated by the human trafficking industry every year.
The internet has become the new marketplace for tracking in children. Sexually exploited children are growing even as fewer prostitutes work the streets.
Be informed to help, to pray, and to give and support the work of organisations around the world who are seeking to bring an end to such injustice.
A viewing of Trade of Innocents at Warriewood United Cinemas will begin this process. Visit www.koorong.com to book your tickets for this viewing on Wednesday 24th April.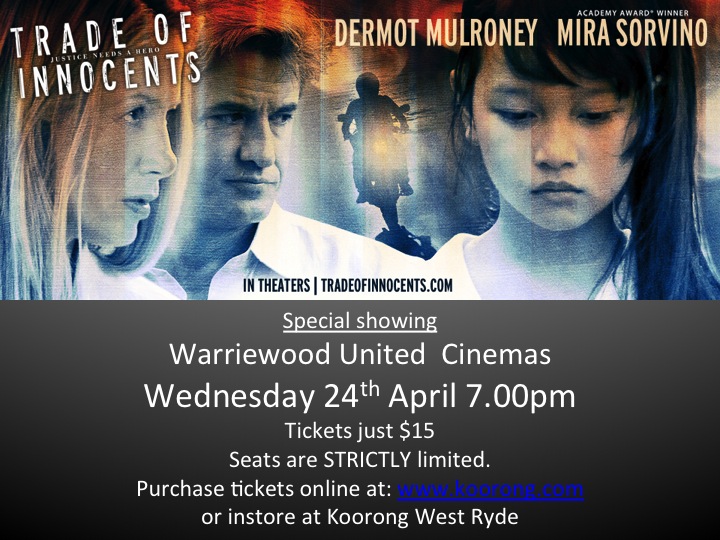 Do you expect God to use you to make disciples of other people? Yes, as a wider church community, we're on about being transformed by Jesus, loving like Jesus so that we might impact the world for Jesus, but individually, what do you see as your role in this task? (more…)