TRANSFORMED by Jesus
LOVING like Jesus
IMPACTING for Jesus
Gathering ONLINE
Each weekend we gather together as one church family for three online services:

Saturdays - 5:00pm
Sundays - 9:00am and 6:00pm

By gathering together online we have an opportunity to sing, pray, hear from God's word and fix our eyes on Jesus. Click one of the links below to join us, and scroll down to find out more about our kids ministry.

Join Now

Join ON YOUTUBE

Catch Up
If you missed one of our services and would like to catch up, you can view them on YouTube

Watch Here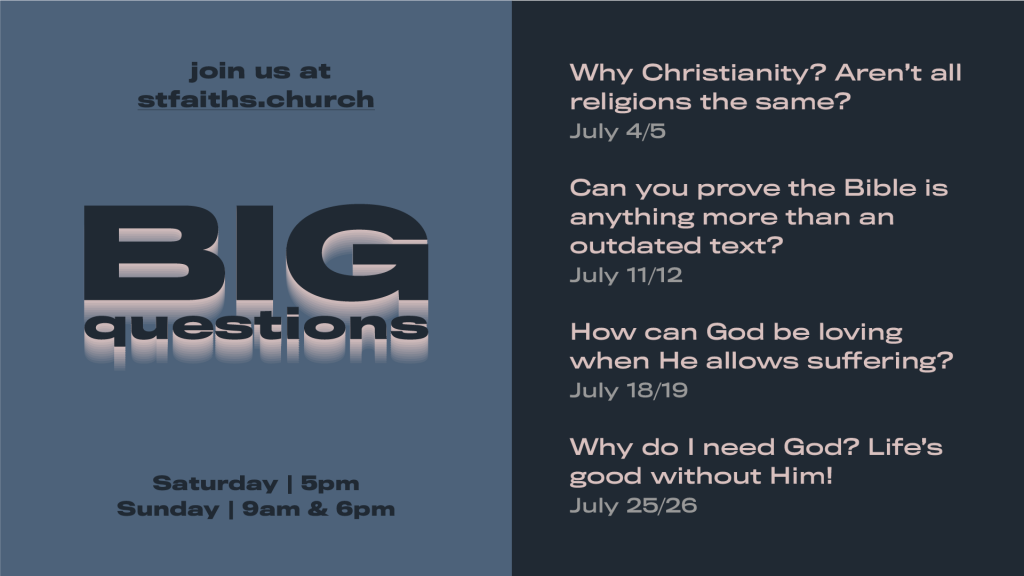 Alpha at St Faith's
Alpha is a chance to explore the big questions of life, faith and meaning.
We'd love for you to join us weekly:

Thursdays | 7:30 - 8:30pm

You can join us either in person at St Faith's or online via Zoom
Alpha will run for 6 straight weeks, beginning on Thursday July 30

register for Alpha

Community Groups
During the week, we meet in smaller groups called "Community Groups" who gather online. The purpose of these groups is to help us continue to be transformed by Jesus' love and to continue to love and support one another. We believe that God will use these groups to grow our connections with one another and to grow our faith in Christ as we spend time reading the Bible and in prayer together.

More Info

Resources ONLINE
We're committed to helping people of all ages in our community grow in their love for and knowledge of Jesus. Find out more below about our Kids Ministry, Devotional Podcast and Videos, and Soulies Youth Ministry.